Huntsville is on the Rise….
Relocating to Huntsville, Alabama?
Huntsville, often referred to as the Rocket City, is a thriving metropolis located in the Appalachian region of northern Alabama. With the highest population in the state, it serves as a major economic hub for the region. If you're considering a move to Huntsville, we've got you covered!
This city has a lot to offer. In fact, Huntsville was voted the #1 best place to live in the U.S.in '22-'23 by U.S. News and World Report. The Abercrombie Group is here to guide you through the relocation process by discussing the advantages of living in Huntsville, the top neighborhoods, must-try cuisine, the job market, and the best places for rest and relaxation.
Huntsville Economy and Jobs
$4.1 Billion of Economic Growth Slated.
Over the next few years $4.1 billion of economic growth is slated across more than a dozen new development projects creating over 6,000 jobs in the Huntsville metro area. Just a sampling:
Mazda-Toyota Manufacturing
Blue Origin Rocket Manufacturer
Aerojet Rocketdyne Rocket Engine Manufacturer
BOCAR Auto Parts Manufacturer
LG Electronics Solar Module Assembly Plant
GE Aviation Ceramic Components Manufacturer
EOS Remote Weapon Systems Manufacturing
BAE Systems
Facebook & Google Data Centers
Best Things About Moving to Huntsville
Lower Cost of Living
The cost of living in Huntsville is quite affordable, with utilities that are on par with the national average but housing costs that are notably lower. An individual can live comfortably with a budget of around $1,000, while a family of four would need approximately $4,000 to cover expenses such as food, transportation, and utilities.
It's important to note that the cost of living can vary depending on your career, salary, and the real estate market in the area. These figures serve as a general guide, but the actual cost of living may be higher or lower depending on your specific situation.
Huntsville offers the best of both worlds, combining the amenities of a bustling city with proximity to natural wonders. The city boasts a diverse array of shopping and dining options, a lively nightlife, and ample job opportunities in major industries. At the same time, it's situated close to pristine woodlands and outdoor recreational areas where you can hike, camp, and observe wildlife. Think Alabama is back woods? Think again! We love our Whole Foods and Trader Joe's!
Excellent Career
Prospects Huntsville boasts a robust job market with a higher-than-average salary for the region. It is a hub for industries such as Aerospace, Defense, Manufacturing, and Biotechnology, offering a wealth of job opportunities for skilled workers in these fields.
Here are a few of our favorite local resources: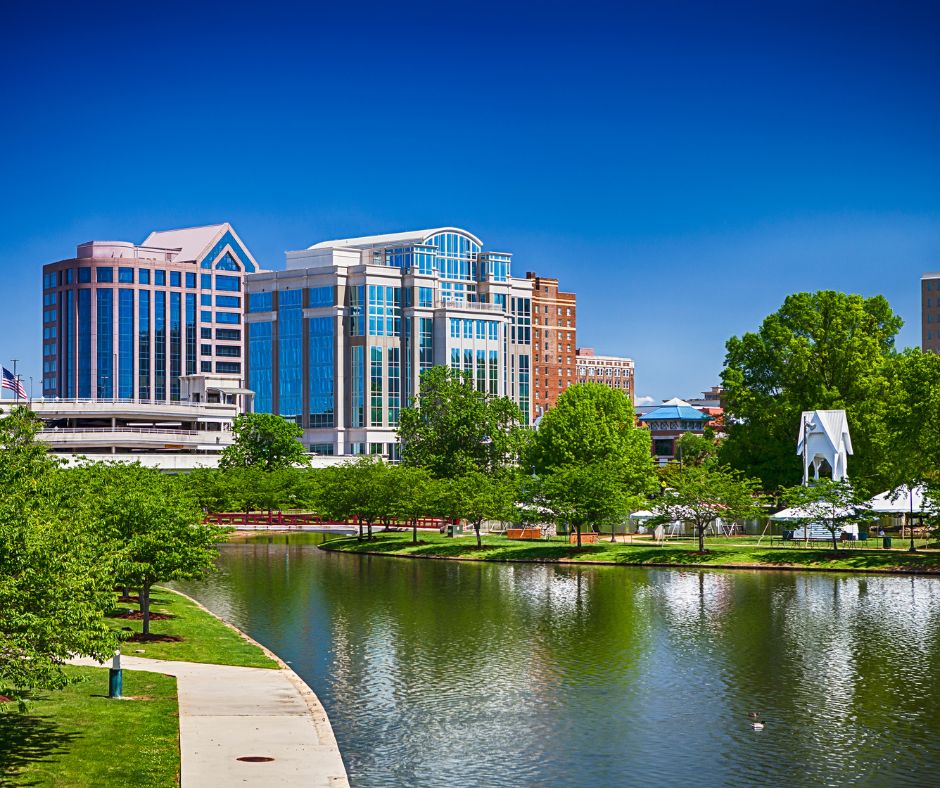 Huntsville, Alabama offers a diverse range of activities and attractions for visitors and residents alike. Here are a few of the best things to do in the city:
Visit the U.S. Space & Rocket Center: This museum showcases the history of space exploration and the role that Huntsville played in the development of NASA's space program.
Explore the Botanical Garden: This lush garden features a variety of plants and flowers, as well as several walking trails and a beautiful lake.
Tour the Monte Sano State Park: This park offers scenic hiking trails, picnic areas, and stunning views of the surrounding mountains and valley.
Explore the Early Works Children's Museum: This interactive museum is designed for children and offers a variety of exhibits and activities that are both educational and fun.
Visit the Huntsville Museum of Art: This museum showcases a diverse collection of contemporary and classical art, as well as traveling exhibitions and special events.
Take a walk through Big Spring Park: This park is located in the heart of downtown and offers a peaceful escape from the city, with walking trails, picnic areas, and a large spring-fed pond.
Enjoy the nightlife: Huntsville offers a thriving nightlife scene, with a variety of bars, restaurants, and live music venues.
These are just a few of the many things to see and do in Huntsville, Alabama. Whether you're a resident or a visitor, you're sure to find plenty of activities to suit your interests.
Here are a few of our favorite websites for fun things to do in Huntsville:
Huntsville Weather
Huntsville, Alabama experiences a temperate climate with four distinct seasons.
In the spring, temperatures begin to warm up and can range from the high 40s to low 80s°F (10°C to 27°C). The spring months can also bring occasional rain showers, but they are usually brief and scattered throughout the day.
During the summer, temperatures can reach into the 90s°F (32°C) and can be quite humid. Thunderstorms are also common in the afternoons during the summer months.
The fall months bring mild temperatures, with daytime highs ranging from the 60s°F to 80°F (16°C to 27°C) and cooler evenings. The autumn months are known for their beautiful foliage, making it a popular time for outdoor activities.
Winters in Huntsville are relatively mild, with daytime temperatures ranging from the 40s°F to 50s°F (4°C to 15°C) and nighttime temperatures dipping into the 30s°F (0°C). Snow is infrequent in the area, but the city can occasionally experience cold snaps and light snowfall.
Overall, Huntsville has a temperate climate with moderate temperatures and a good balance of rain and sunshine throughout the year. This makes it a great place to live for those who enjoy a mild, four-season climate.
Where to Live in Huntsville?
There are dozens of neighborhoods in Huntsville. We can't tell you where to live, but we can talk about some of the most popular and notable neighborhoods when searching for your Huntsville real estate.
These are just a few of the many neighborhoods in Huntsville, Alabama. No matter what your needs and preferences, you're sure to find a neighborhood that suits your lifestyle and budget.
Start here by searching Huntsville Neighborhoods or browse current listings below.
Let's Help You Move to Huntsville
Welcome to Huntsville! With its abundance of Fortune 500 companies, hi-tech industries, aerospace and military industries, cutting-edge research centers, major retail outlets, as well as new and thriving businesses, Huntsville is a hub of economic activity. However, relocating can be a big adjustment for everyone, especially for children. To ensure a smooth transition for your family, it's important to involve them in the process.
Consider holding a family meeting to explain the reasons for the move to Alabama and to ask for their help in preparing for the move. Encourage your children to ask questions and express any concerns they may have. By involving them in the preparation process, you can help ease any anxieties they may have. This could include gathering necessary supplies such as boxes and tape, and making arrangements to notify relevant businesses of your new address. Making the move together as a family can help to create a sense of excitement and anticipation for the changes to come.
The Newest Huntsville Real Estate Listings
September 25, 2023
The Newest Huntsville Real Estate Listings by Price