Why Huntsville, Alabama Is the Best Place to Live in 2022-23
Posted by Rob Abercrombie on Monday, October 16, 2023 at 9:45 AM
By Rob Abercrombie / October 16, 2023
Comment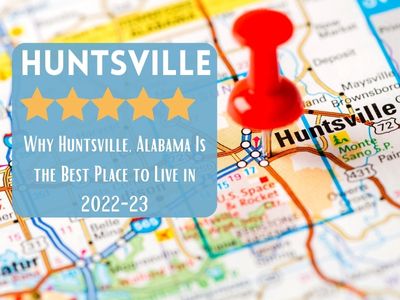 In an unexpected turn of events, Huntsville, Alabama, surpasses 149 other metro areas to take the top spot in the U.S. News Best Places to Live rating for 2022–23. Huntsville's population of under 500,000 makes it seem little in comparison to many of the other listed cities. However, individuals reassessing their priorities in the wake of the pandemic are falling in love with Huntsville's distinctive combination of affordability and quality of life.
A Culinary Adventure Awaits
Relocating to Huntsville, Alabama offers a multitude of enticing reasons, and the vibrant culinary scene with restaurants like Biscuit Belly, Big Spoon Creamery, and Papa Gyros only adds to the city's allure. Huntsville combines Southern charm with modern amenities, offering a high quality of life, affordable housing, and a burgeoning job market. The city's commitment to sustainability and its clean environment makes it an ideal place to call home. Moreover, the local food culture is a testament to Huntsville's diversity and innovation, making dining experiences here exceptional. Whether indulging in the inventive brunch offerings at Biscuit Belly, savoring artisanal ice cream at Big Spoon Creamery, or enjoying the flavors of Greece at Papa Gyros, these restaurants reflect the city's commitment to culinary excellence. The move to Huntsville promises not only a thriving community but also a delightful culinary journey that will leave you eager to explore all that this city has to offer.
Biscuit Belly - A Culinary Passion Unleashed
In the heart of Huntsville, Biscuit Belly is a labor of love brought to life by Chad and Lauren Coulter, former pharmacists turned restaurateurs. Drawing inspiration from their Southern roots, they set out to create a dining haven where guests could savor the true essence of Southern cuisine, infused with a touch of flair.
After finding success with a wine and tapas concept, the dynamic husband-and-wife duo decided to channel their passion into a beloved pastime—brunch. They embarked on this culinary journey with renowned executive chef Tavis Rockwell, dedicated to crafting an inventive brunch menu that would breathe new life into Southern classics.
Their commitment to perfection led Tavis to spend three months meticulously perfecting their proprietary biscuit recipe. The result? A labor of love that you can taste in every delicious bite.
Big Spoon Creamery - A Dream Fulfilled with Ice Cream
To truly understand the essence of Big Spoon Creamery, you need to delve into the story of co-founders and owners Geri-Martha and Ryan O'Hara. Both seasoned chefs with extensive backgrounds in some of the nation's finest restaurants, they shared a dream—a dream of combining their love for ice cream with their passion for serving people.
In July 2014, armed with $500, boundless determination, and countless prayers, the dream materialized into Big Spoon Creamery. It began with an old-school ice cream trike, and the venture quickly gained momentum. By 2016, they had expanded to a truck. In April 2017, their first brick-and-mortar location opened in Avondale, and in February 2019, they inaugurated their second location in Homewood. Excitingly, a third location in Huntsville is set to open its doors in Summer 2023!
Big Spoon Creamery's ethos revolves around small-batch, artisanal ice cream crafted with unparalleled passion. Their goal is simple—to create the finest ice cream in the world. Drawing from their experiences in top-tier restaurants, they focus on seasonality and local ingredients, infusing innovation into timeless classics. Through collaborations with local farmers, artisans, and purveyors, they meticulously curate a menu that showcases the region's best offerings in any given season.
Beyond ice cream, their mission is rooted in a profound love for people. Big Spoon Creamery aspires to make a positive impact on their team, guests, and the community at large, driven by a commitment to offering top-tier products, fostering a vibrant culture, and delivering exceptional hospitality.
Papa Gyros - A Taste of Greece by the Mediterranean
Nestled in Huntsville, Papa Gyros is a culinary journey that transports you to the sun-soaked shores of Greece, a place where Mediterranean cuisine is a way of life. Rooted in Greece's rich cultural history, their mission is to bring the wholesome, healthful benefits of Mediterranean cuisine to everyday life.
Papa Gyros encapsulates the Greek experience through every ingredient, delivering extraordinary Greek flavors to your table. Their commitment to freshness and health is evident in every dish, nourishing both body and soul. The menu reflects a dedication to wholesome ingredients, flavorful proteins, creative combinations, scratch-made sauces, and delectable desserts.
Greek cuisine staples like olive oil, nuts, vegetables, yogurt, and lean meats take center stage, enhanced with a symphony of herbs and spices—mint, parsley, basil, oregano, garlic, and cinnamon. Kalamata Olives and extra virgin olive oil, sourced exclusively from Southern Greece's Peloponnese peninsula, add a smooth, meaty texture to their dishes, elevating every bite.
And let's not forget the wine! Papa Gyros offers an authentic Greek wine list featuring stunning reds and whites from various regions of Greece. With hundreds of indigenous grape varieties and a winemaking tradition dating back millennia, Greek wine is a true delight for connoisseurs.
So, pull up a chair and savor the warm hospitality of Papa Gyros. Experience the flavors of Greece that have been lovingly recreated in every dish and embark on a Mediterranean culinary voyage right here in Huntsville, Alabama.
A Unique Southern Pocket
Huntsville stands apart from the rest of Alabama. It has a history of reinventing itself, adapting to changing industries and embracing new opportunities. The city's international influence, stemming from NASA's global draw, has infused a unique character into its fabric. Visitors often note Huntsville's distinctive blend of Southern hospitality with an international flair.
In conclusion, the Rocket City of Huntsville beckons with its promise of a brighter future. With burgeoning job opportunities, affordable housing, and pristine air quality, this hidden gem in Alabama offers a lifestyle that's both thriving and sustainable. While it might not be the first place that comes to mind, Huntsville's distinctive fusion of tradition and innovation has a magnetic pull, captivating those who venture here. As you consider your next destination, don't overlook Huntsville, AL.