8 Popular Neighborhoods in Huntsville 2023
Posted by Rob Abercrombie on Friday, June 16, 2023 at 3:00 PM
By Rob Abercrombie / June 16, 2023
Comment
Huntsville, Alabama is a stunning city with numerous offerings for its inhabitants. Finding an ideal dwelling that truly feels like home can be a challenging task. However, in this guide, we will explore multiple options available to you should you decide to relocate to Huntsville, Alabama and establish it as your permanent residence.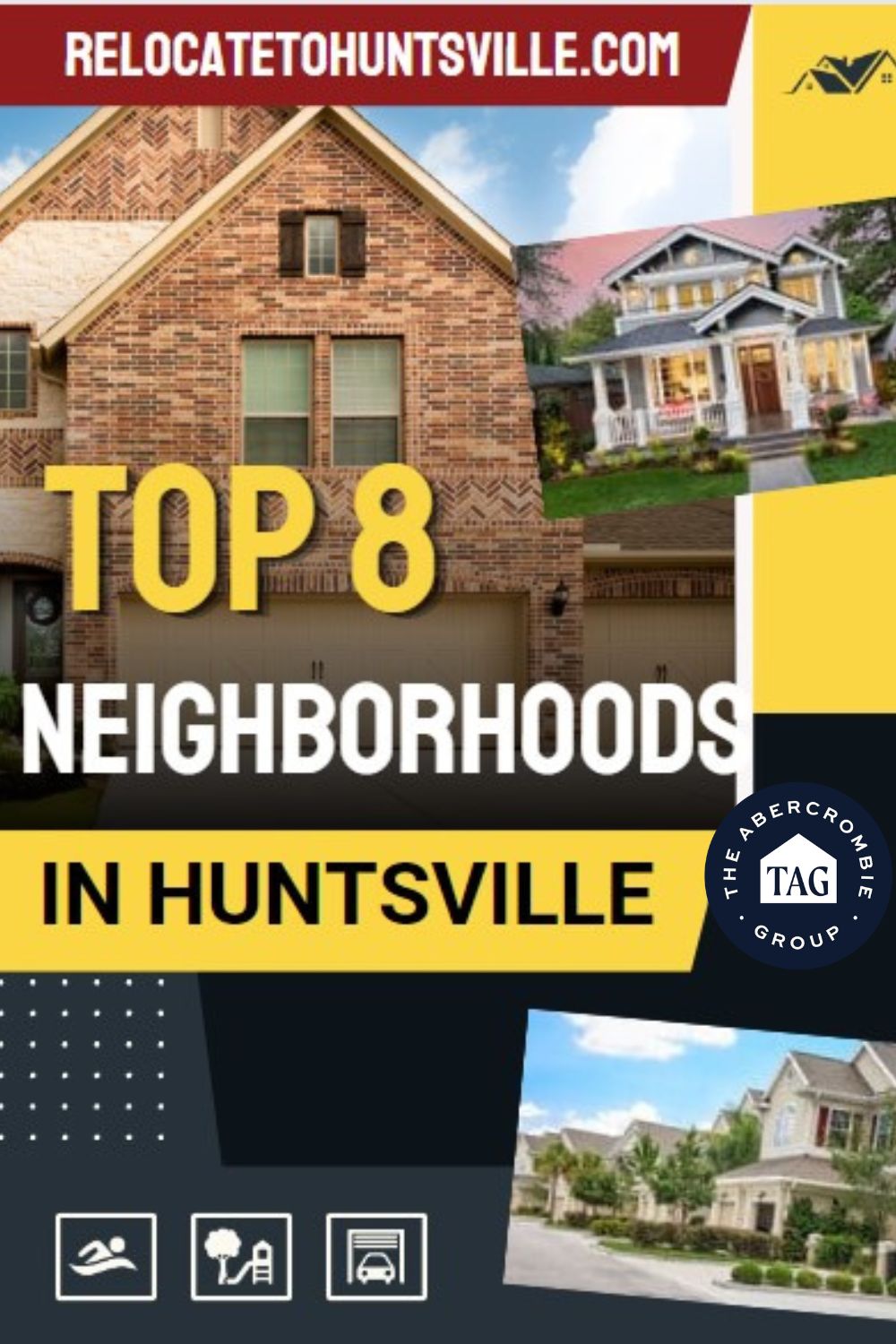 Here are some of the top neighborhoods in Huntsville, Alabama in 2023
Hampton Cove is actually in Owens Cross Roads, and has undergone rapid expansion and is now a sought-after suburb of the city. Despite its growth, it has maintained its natural charm, exemplified by the striking waterfall and water feature at its entrance.
There are an abundance of activities to enjoy in Hampton Cove, including trails for hiking, running, and biking, as well as various sports courts. Additionally, the neighborhood features a clubhouse, golf course, and parks that often host community events. Its location is ideal, offering seclusion and tranquility while still being just a short commute from the city center.
Hampton Cove is an affordable and highly desirable place to live, with a welcoming atmosphere that makes it ideal for families. McMullen Cove is right down the road and worth checking out too.
The neighborhood of Five-Points derives its name from its unique location where five streets converge at a single point. Its charm lies in the array of mom-and-pop knick-knack shops that cater to those with eclectic tastes. Art enthusiasts can explore a variety of shops and collect unique pieces to adorn their living spaces. What sets these businesses apart is that they are converted homes, retaining their original structures and appearance. To the uninitiated, the small shops may blend in with the surrounding homes, making them easy to overlook unless one is familiar with Five-Points. A few of our favorite shops in Five Points are Star Market, Walker's Market, and Victoria's Interiors.
Even though this city is currently the fastest-growing in Alabama, the population still hovers around 50,000 people. Despite this, Madison has access to shopping and entertainment options similar to much larger cities. Whether you're looking for your favorite business or a fun outing, chances are you'll find it in Madison or one of the neighboring cities. Check out Historic Madison for great shopping and dining. We also love Clift Farms- a charming new community in Madison.
Twickenham is a historic neighborhood located in downtown Huntsville. Known for its beautifully preserved antebellum homes, tree-lined streets, and proximity to amenities like Big Spring Park, shops, and restaurants, Twickenham is highly sought after by residents.
Providence or the Village of Providence, is a master-planned community that combines residential, commercial, and retail spaces. It features a mix of single-family homes, townhouses, and apartments. Providence offers a variety of amenities, including walkable shopping centers, restaurants, parks, and walking trails.
Located southeast of downtown Huntsville, Jones Valley is a well-established neighborhood known for its convenient location and excellent schools. It offers a mix of housing options, from older homes with large yards to newer developments. Jones Valley is close to shopping centers, restaurants, and entertainment options. They also have a great neighborhood pool (Jones Valley Pool) and a top swim team.
Piedmont is part of Jones Valley so we have combined them. Situated in the heart of Huntsville, AL, the Piedmont Subdivision is an exceptional place to settle down and call home. Its prime location provides easy access to shopping, dining establishments, and top-notch schools. Moreover, this neighborhood is just a stone's throw away from the vibrant and diverse downtown area, ensuring that you're always near the action. Nature enthusiasts will delight in the proximity to Monte Sano State Park, boasting splendid hiking trails, biking routes, and idyllic camping spots.
For sports and soccer enthusiasts, the recently renovated Joe Davis Soccer Stadium is a must-visit destination, offering thrilling games and an electric atmosphere. The charm of the Piedmont community lies in its housing options, with homes built during the 1960s and 70s. This diversity ensures a wide range of sizes and large yards, providing ample space for both entertaining guests and unwinding in solitude.
Seize this outstanding opportunity to make Piedmont your cherished abode. Don't forget to visit the Piedmont Pool website for membership details and information about joining their esteemed swim team. They also offer a great youth triatholin each summer- The Pesky Piranha which starts at Piedmont Pool.
Blossomwood is a desirable neighborhood situated near Huntsville's Monte Sano Mountain and Land Trust of North Alabama. It is known for its charming homes, beautiful views, and access to outdoor recreational opportunities. Blossomwood residents enjoy proximity to hiking trails, parks, and the Monte Sano State Park. The Blossomwood Pool is a staple in the community for fun and competative swimming. There's also walkable shopping close by at Twickenham Square with Publix, The Pant's Store, and Taco Momma.
Nestled amidst the picturesque landscapes of Alabama, the Waltons Mountain subdivision stands as a premier residential area. Here, you will discover luxurious homes set against the backdrop of majestic mountains, providing breathtaking views. What sets this neighborhood apart is its exceptional location—conveniently close to shopping centers and hospitals, yet secluded from the hustle and bustle of busy traffic.
The subdivision features an array of established homes, but it also offers available building sites for those seeking to craft their dream abode. Residents of Waltons Mountain can take solace in the assurance that their properties retain consistent high value, while enjoying a serene and inviting environment that fosters a sense of community among friendly families.
Huntsville, Alabama stands out as a city that offers a remarkable selection of neighborhoods, each with its unique qualities and amenities. Whether you're drawn to the historic charm of Twickenham, the picturesque landscapes of Hampton Cove, the convenient community of Providence, the established appeal of Jones Valley, or the natural beauty surrounding Blossomwood, Huntsville provides a range of options to cater to different lifestyles and preferences. With its thriving economy, excellent schools, and vibrant cultural scene, Huntsville continues to attract residents seeking a high quality of life in a welcoming and diverse community. As Huntsville evolves and new neighborhoods emerge, it remains a city worth exploring and calling home.
In Conclusion
There are so many great neighborhoods in Huntsville- it's hard to narrow it down. This is just a start! We also love Lake Forest, The Ledges, and Canebrake in Athens. For more detailed information on any of these neighborhoods in Huntsville or if you're interested in learning about other neighborhoods in the area, please don't hesitate to contact us. Our dedicated team is here to assist you with all of your real estate needs, providing you with expert guidance and personalized assistance. Whether you're searching for your dream home, looking to invest in properties, or simply curious about the local real estate market, we are committed to providing you with the information and support necessary to make informed decisions. Reach out to us today and let us help you find the perfect neighborhood that aligns with your preferences and lifestyle.