The Benefits of Buying a Second Home in Huntsville AL
Posted by Rob Abercrombie on Wednesday, July 5, 2023 at 9:25:23 AM
By Rob Abercrombie / July 5, 2023
Comment
Are you considering purchasing a second home as a rental property or for Airbnb purposes? As proficient real estate agents and investment specialists, we understand the appeal of investing in a second home, particularly near scenic locations such as Lake Guntersville, Smith Lake, Wheeler Lake, and Wilson Lake in the Huntsville area. In this blog post, we will explore the reasons why buying a lake house or beach property can be a smart investment decision, and how we can assist you in finding the perfect property through our extensive network of agents.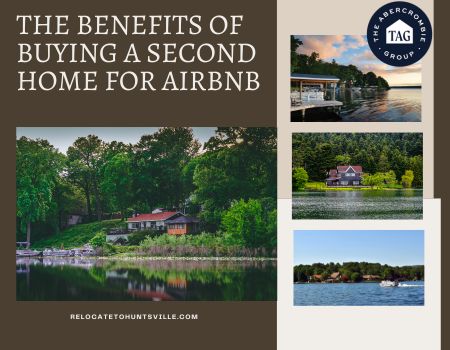 The Allure of a Lake House:
Owning a second home near a picturesque lake can offer numerous benefits. Lake Guntersville, Smith Lake, and Wilson Lake are renowned for their natural beauty, recreational activities, and vibrant communities. Here are a few reasons why buying a lake house can be an excellent investment:
Vacation Rental Income: Lake houses are in high demand among tourists and vacationers seeking a serene escape. By renting out your lake house when you're not using it, you can generate a steady stream of rental income.
Appreciation Potential: Lakefront properties are often considered prime real estate, with the potential for significant appreciation over time. As the demand for waterfront homes continues to grow, your investment could yield substantial returns.
Personal Enjoyment: Aside from the financial benefits, owning a lake house allows you to enjoy a peaceful retreat away from the hustle and bustle of city life. You can create lasting memories with family and friends while enjoying a range of water-based activities like boating, fishing, and swimming.
Investment Property Opportunities:
Beyond the allure of lake houses, purchasing a second home as an investment property offers several advantages:
Diversification of Assets: Investing in real estate diversifies your investment portfolio, reducing risk and potentially increasing overall returns. A second home provides an additional income stream and can act as a hedge against market fluctuations.
Tax Benefits: Rental properties often come with various tax advantages, such as deductions for mortgage interest, property taxes, repairs, and depreciation. These benefits can help optimize your overall tax situation.
Retirement Planning: A well-chosen investment property can serve as a valuable asset in your retirement plan. The rental income can supplement your retirement savings or even become your primary source of income after retiring.
The Different Lakes We Have Around Huntsville
Wilson Lake
Probably one of the top lakes to own a rental property. Along the Tennessee River, Wilson Lake is about an hour west of Huntsville.
Wilson Lake is an impoundment of the Tennessee River, created by Wilson Dam. It is separated from Pickwick Lake by the dam. The lake is known for its healthy populations of game fish, including largemouth bass, smallmouth bass, and crappie.
Visitors to Wilson Lake can enjoy fishing, recreational boating, and the natural beauty of the surrounding wildlife refuges. The lake attracts numerous visitors and hosts various fishing tournaments, both local and national, on a regular basis.
Smith Lake
Just a small lake about 30 minutes east of Huntsville but nearly every home is lakefront; a perfect out-of-the-way spot to own a rental property. Perfect for kayaks and paddleboards.
Lake Wheeler
Situated in the northern region of Alabama, United States, between Rogersville and Huntsville, lies the breathtaking Wheeler Lake. Spanning an impressive 60 miles from Wheeler Dam to Guntersville Dam, this magnificent lake was formed by the construction of Wheeler Dam on the Tennessee River. With a vast expanse of 68,300 acres, Wheeler Lake proudly holds the title of Alabama's second-largest lake, trailing only slightly behind Guntersville Lake, the largest lake in the state, which encompasses 69,100 acres. Notably, these two lakes are separated by the Guntersville Dam.
Wheeler Lake has established itself as a prominent hub for recreation and tourism, welcoming approximately four million visitors each year. Enthusiasts of camping, boating, and fishing flock to its shores, indulging in the plethora of outdoor activities available. Moreover, a few miles upstream from the dam, visitors can explore the captivating Wheeler National Wildlife Refuge, adding another layer of natural wonder to the already impressive lake experience. There are homes all up and down this expansive lake.
Lake Guntersville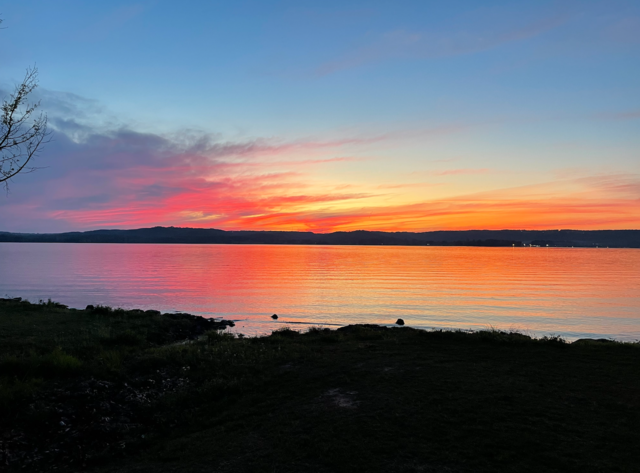 Located about an hour southeast of Huntsville, Lake Guntersville is probably our favorite for rental properties and investment real estate. The expansive park spans over 6,000 acres of natural woodlands, offering a range of options for those seeking either a relaxing resort-style getaway or an exciting outdoor adventure. With its diverse array of recreational activities, Lake Guntersville State Park has something to suit every interest.
For golf enthusiasts, the park boasts an impressive 18-hole championship golf course, providing an opportunity to test your skills amidst picturesque surroundings. Thrill-seekers can embark on an exhilarating experience at the Screaming Eagle Zipline, soaring through the treetops and taking in breathtaking views.
If you prefer to unwind by the water, the park features a beach complex where you can soak up the sun, swim, or engage in various water sports. For nature enthusiasts, the outdoor nature center offers a wealth of educational experiences and insights into the local flora and fauna.
As Alabama's largest lake, Lake Guntersville offers exceptional fishing opportunities. Anglers can cast their lines in search of a prized catch while enjoying the serene beauty of the surroundings. Additionally, the park boasts an extensive network of 36 miles of hiking and biking trails, allowing visitors to explore the natural wonders of the area at their own pace. For those seeking guidance and companionship, weekly guided hikes are available.
The day-use area provides a perfect spot for picnics, family gatherings, or simply enjoying the outdoors. Whether you're seeking tranquility, adventure, or a combination of both, Lake Guntersville State Park offers a diverse range of activities to cater to your desires.
City Harbor at Lake Guntersville provides a vibrant hub for entertainment, dining, and shopping. Nestled along the lake's shores, this bustling area features an array of cool restaurants where you can indulge in delicious meals while enjoying breathtaking views of the water. Whether you're craving local flavors, international cuisine, or waterfront dining experiences, City Harbor has something to satisfy every palate.
City Harbor also offers a diverse shopping scene. Explore charming boutiques, art galleries, and specialty stores, where you can discover unique treasures and souvenirs to commemorate your visit to the area. From fashion and accessories to home decor and local crafts, you're sure to find something that catches your eye.
Beach Properties:
A Slice of Paradise: While we may not hold a Florida license, our affiliation with Keller Williams Realty empowers us to connect you with expert agents across the country. Beach properties are a dream for many, and our extensive network allows us to refer you to qualified agents who specialize in coastal real estate. Here's why beach properties make for an enticing second home investment:
Vacation Hotspots: Beachfront properties are sought after by vacationers, making them an ideal choice for rental or Airbnb investments. The demand for coastal getaways remains high throughout the year, ensuring a consistent rental income stream.
Lifestyle and Appreciation: Owning a beach property offers the opportunity for a relaxed coastal lifestyle. The appeal of living near the beach, combined with the potential for property appreciation over time, can make your investment all the more rewarding.
Wealth-Building Potential: Beach properties, especially in prime locations, often appreciate at a higher rate compared to other real estate markets. Capitalizing on this appreciation can significantly contribute to your long-term wealth-building goals.
Ideal Properties Along Scenic 30A - YES! Florida!

The 30A area is a highly sought-after destination for those seeking second homes. With its picturesque coastal towns such as Seaside, Seagrove, Seacrest, Watercolor, Blue Mountain Beach, and Rosemary, this stretch of coastline offers a charming and relaxed beach lifestyle. Many families and individuals have already taken the opportunity to invest in second homes in these beach communities.

We have connections with a network of experienced agents across various locations, including the 30A area. If you or anyone you know is interested in purchasing a second home in one of these beach communities, we can help by connecting you with a knowledgeable and trusted Keller Williams agent who specializes in the region. Your satisfaction and finding the right agent to meet your needs are our top prioritiy.
Don't hesitate to reach out to us for further information or assistance. We are here to ensure that your real estate journey, whether it's by the lake or at the beach, is a successful and enjoyable one.
As you enter the stage of life where owning a second home becomes a consideration, it's crucial to explore the benefits of investing in a rental or Airbnb property. Whether you're drawn to the serene lakes of Huntsville or the captivating beaches elsewhere, our real estate expertise and vast network of agents allow us to guide you through the process. Contact us today to embark on an exciting journey toward owning a second home that offers both financial rewards and a lifetime of cherished memories.
Search All Waterfront and Lakefront Homes for Sale
By Clark019 - Own work, CC BY-SA 4.0, https://commons.wikimedia.org/w/index.php?curid=130889565