Relocation Services
Posted by Rob Abercrombie on Thursday, November 24, 2022 at 12:36 PM
By Rob Abercrombie / November 24, 2022
Comment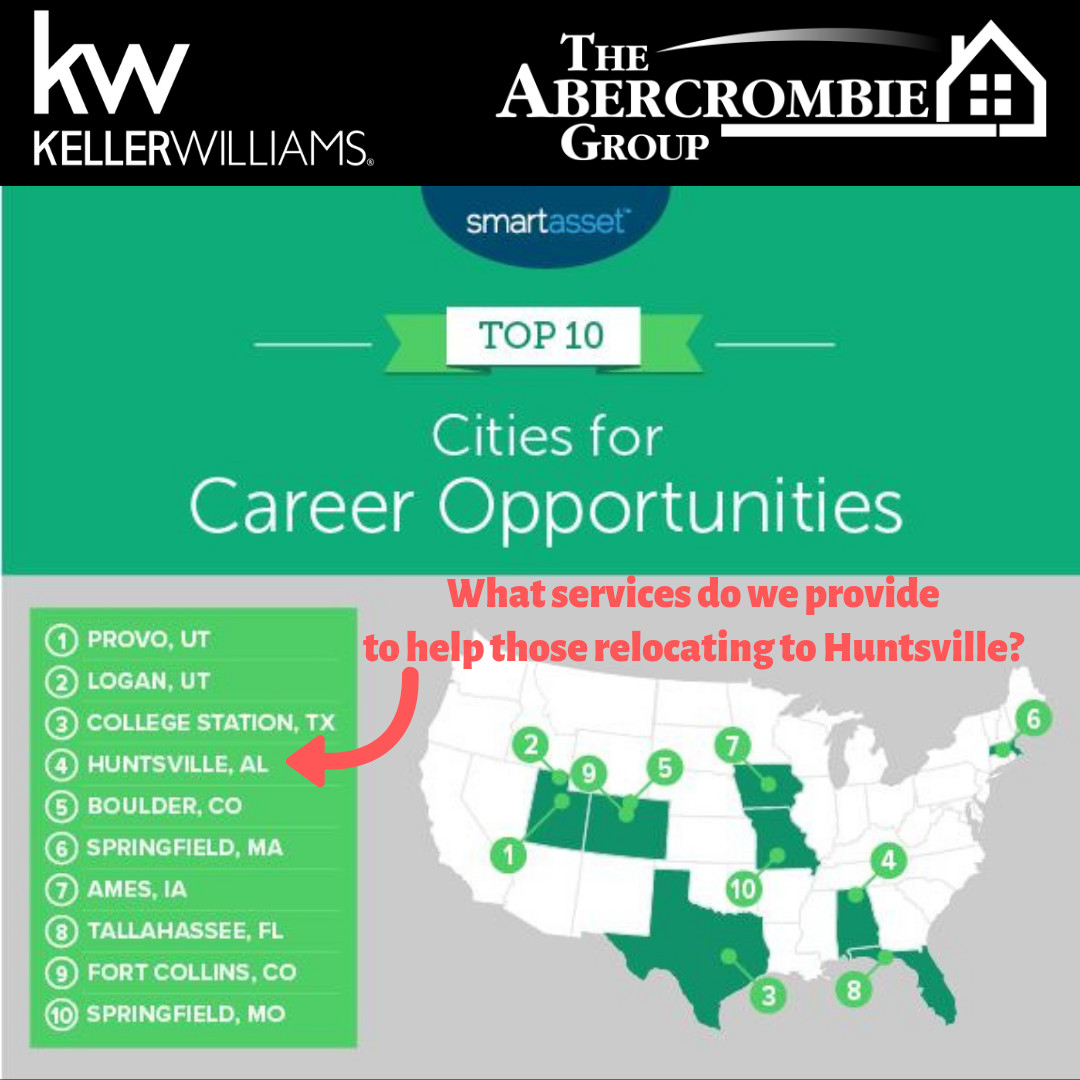 For those of us watching the exciting growth around the Rocket City, last week's announcement by SmartAsset declaring Huntsville, AL the #4 City for Career Opportunities in the U.S. did not take us by surprise. After all, with over $4.1 billion of economic growth slated for the Tennessee Valley across more than a dozen new development projects creating 6,000 jobs around the area, Huntsville's reputation as a vibrant and innovative place to live, work, and play is only beginning to shine.
But what do the words "Huntsville, Alabama" mean to someone who has never experienced the rich and diverse culture we love here where deep space meets the deep south?
That's where we come in…
Rob Abercrombie and The Abercrombie Group specializes in relocation.
For our corporate business partners and individuals, we offer complimentary City Tours around Huntsville and beyond. We love nothing more than sharing our hometown with new arrivals. We are insider experts on each unique neighborhood's personality and esthetic as well as school choices around the county. Huntsville has a thriving downtown, cutting-edge tech sector, and is surrounded by the foothills of the Appalachian Mountains. Whether you or your employee wants to learn more about local restaurants, the art scene, outdoor adventures, or the fascinating history of our contribution to the space program, we can't wait to tailor a tour to meet those needs.
Rob Abercrombie and The Abercrombie Group have exceptional relationships with lenders & builders.
Have we mentioned value? When U.S. News & World Report ranked Huntsville as the overall #7 best place to live in the U.S. last year, one aspect of that distinction flew under most radars. U.S. News uses 5 categories to rank metro areas based on the quality of life, job market, desirability, migration, and VALUE where Huntsville ranks #1. That potent combination of incredible career opportunities and affordable home prices means that for many of our new transplants, their dream home does not have to be a dream anymore. Our experienced local lending team will make sure that each buyer's needs are perfectly met.
With over 18 years of experience in the Huntsville real estate market, Rob Abercrombie has cultivated long-lasting, meaningful partnerships with both local lenders and builders. When someone asks, "What value does a realtor bring to a new home build process?" we not only have answers, but detailed examples of the many times Rob has navigated the tangled web of builders, sub-contractors, and suppliers to assure that our client has the highest quality home for the lowest price and least heartache. Worried about starting a new home build before your move to Huntsville? We will be your eyes on the ground checking progress, sending photos, and even face-timing tours of your new home construction.
Whether your bags are packed, or you are just beginning to investigate the Huntsville/Madison County area, The Abercrombie Group wants to join you on the adventure. We offer the perfect blend of perspectives on our growing and innovative city. Long-time Huntsville resident, Rob Abercrombie, has the inside scoop as he's watched our community bloom from the small aerospace hub of his childhood into the thriving metroplex we enjoy today.
Give us a call! We'd love to show you around-