Making a Splash in Huntsville, Alabama: The Best Waterparks and Splash Pads
Posted by Rob Abercrombie on Tuesday, September 19, 2023 at 11:33:03 AM
By Rob Abercrombie / September 19, 2023
Comment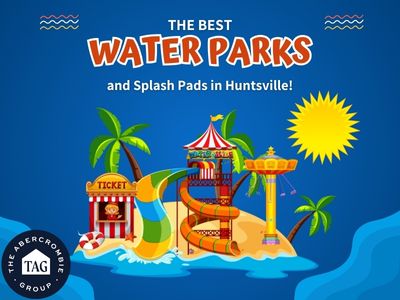 Whether you're new to Alabama or you've lived here your whole life, chances are, you're aware that the summer's in Huntsville, Alabama can be excruciatingly hot. The sun is blazing, and the heat is relentless. While many homeowners may have their own private backyard pool, or apartment and condo communities may boast a community pool, for many, a chance to cool off from the summer heat lies elsewhere. Luckily, Huntsville, Alabama, has a fantastic array of waterparks, splash pads, and public pools to help you beat the heat and make the most of your summer days. Here are a few of our favorite waterparks and splash pads within and surrounding Huntsville.
One of the crown jewels of aquatic entertainment in Huntsville is the Point Mallard Water Park. Located in Decatur, just a short drive from Huntsville, Point Mallard offers a wide range of attractions suitable for all ages. With its wave pool, lazy river, thrilling slides, and a dedicated area for the little ones, this park has something for everyone. The reasonable admission fees make it a budget-friendly choice for families. Don't forget to check their schedule for special events and extended hours, which add even more excitement to your visit.
Location: 2901 Point Mallard Drive, Decatur
Hours: Opens May 27, 2023 | 10 AM-6 PM Mon-Sat, 1-6 PM Sunday
Cost: $28 (ages 12+), $23 (ages 5-11, seniors, and military), Free (2 and under)
Phone: 256-341-4900
For a slightly farther adventure, make your way to Spring Valley Beach Water Park in Blountsville. This charming park is nestled amidst the natural beauty of Sand Mountain, providing a serene backdrop for your aquatic adventures. Thrill-seekers will love the exhilarating water slides, while those seeking relaxation can float along the lazy river. Spring Valley Beach is particularly family-friendly, offering discounted rates for smaller children and seniors. It's a splendid destination for a day of sun and water-filled fun.
Location: 2340 County Hwy 55, Blountsville
Hours: Opens May 27, 2023 | 10 AM-6 PM
Cost: $30 (4-feet-tall and over), $24 (3 years through 4-feet-tall, seniors), Free with paid adult (2 years and under)
Phone: 205-429-2075
If you're up for a short road trip from Huntsville, make your way to Alabama Splash Adventure in Bessemer. This expansive water and amusement park offers a thrilling mix of water slides, wave pools, and a lazy river. Additionally, you can enjoy dryland attractions such as roller coasters and amusement rides, making it a perfect destination for the whole family. While it's a bit farther from Huntsville, the variety of entertainment options and quality facilities make it worth the drive.
Location: 4599 Splash Adventure Parkway, Bessemer
Hours: Opens May 13, 2023 | 10:30 AM through 6-7 PM (see complete schedule and hours)
Cost: $44.99 (adults over 52" tall), $39.99 (ages 3+ under 52" tall, seniors), Free (2 and under)
Phone: 205-481-4750
For a more budget-conscious option that doesn't skimp on fun, Sand Mountain Water Park in Albertville is a fantastic choice. This park boasts a variety of slides, a lazy river, and plenty of space for sunbathing and picnicking. The reasonable admission fee, along with free entry for kids 4 and under, makes it an excellent option for families on a budget. Sand Mountain Water Park provides a relaxed and laid-back atmosphere for a day of aquatic enjoyment.
Location: 1325 SMPA Boulevard, Albertville, AL
Hours: Opens May 27, 2023 | 11:30 AM-6 PM Mon-Fri, 10-6 Sat, 1-6 PM Sun
Cost: $15, ages 4 and under free
Phone: 256-891-8240
In Huntsville, the summer heat is no match for the fantastic waterparks and splash pads that await you. Whether you prefer the thrills of water slides or the tranquility of a lazy river, there's a perfect water attraction for everyone. So, gather your family and friends, pack your swimsuits, and get ready to make a splash at one of these fantastic destinations. You'll calling Huntsville home due to the wide range of activities and festivals in the area! Stay cool, Huntsville!
**Please note that the opening dates, hours, and admission prices are subject to change, so be sure to check with the respective water parks for the most up-to-date information before planning your visit**