Huntsville and Madison Ice Cream- Eat Local
Posted by Rob Abercrombie on Thursday, June 29, 2023 at 2:30 PM
By Rob Abercrombie / June 29, 2023
Comment
Huntsville and Madison Ice Cream - Where to Eat Local
If you have kids, you probably know where some good ice cream places are. Consider eating local for ice cream/gelato too. Huntsville and Madison have some amazing ice cream shops! There are several places in the area that offer delicious ice cream and gelato options. Some popular ice cream shops in Huntsville and Madison include: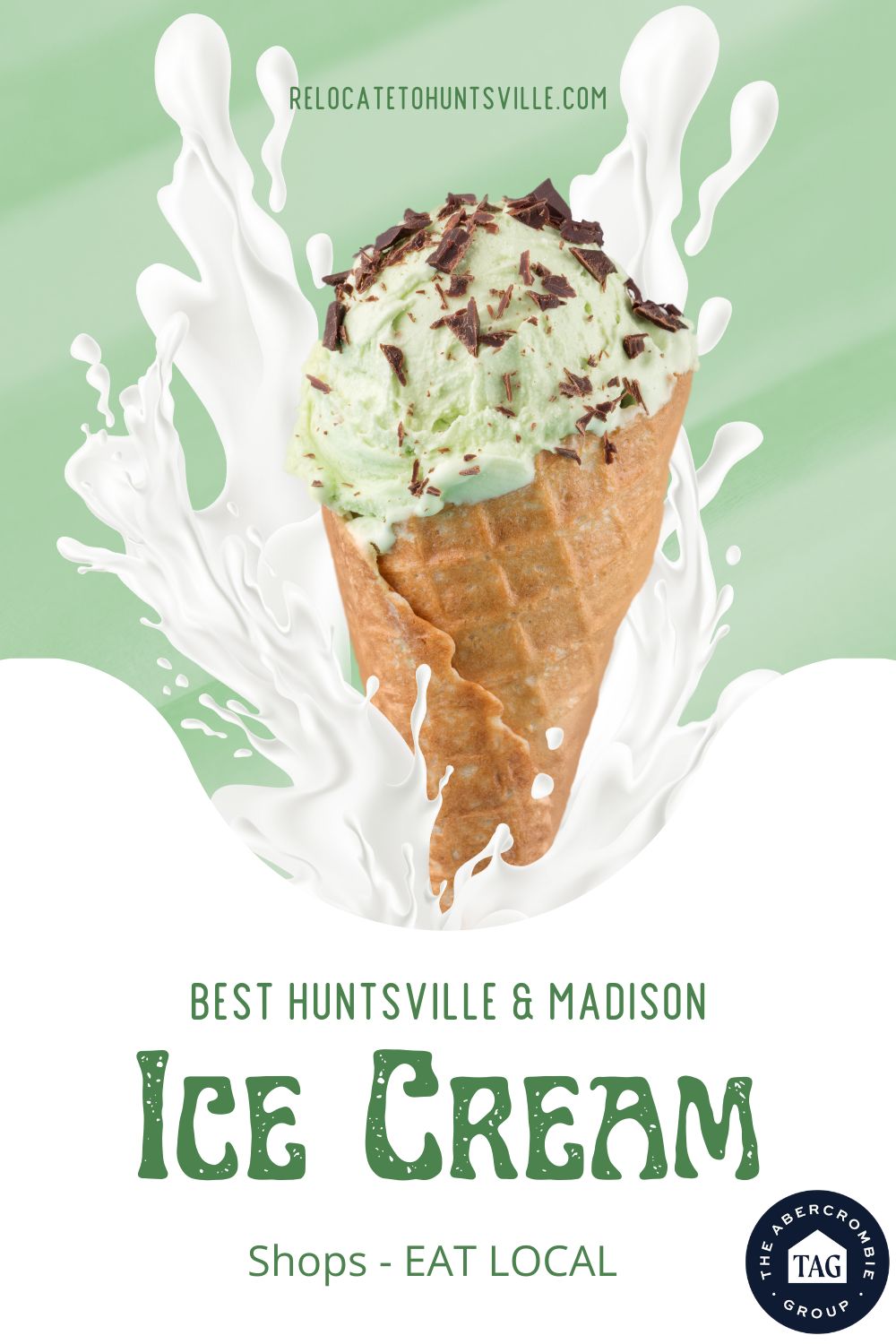 *Oscar Moons- (Stovehouse)-
We love Oscar Moons- great retro vibe at Stovehouse. You feel like you're at a 1950's milk shake bar. They serve Bluebell ice cream and amazing shakes. TAG even hosted an ice cream social here and our clients loved it!
*The Cozy Cow- (Big Spring Park)- 100 Church Street-
Great local place! We love the location and the ice cream. It's right on Big Spring Park and fun to walk around after getting your ice cream. Super cute patio area and friendly staff!
*Sam and Greg's- (Downtown Huntsville)-
The gelato here is pretty amazing! The atmosphere is so fun and the restaurant is very kid friendly. We love the location on the square in downtown Huntsville.
*Yolo Rollo- (Parkway Place Mall)-
Check this out! It's an interesting concept and kids seem to love it.
We also love -
New to downtown and really interesting flavors!
*Baskin Robbins- (Airport and Whitesburg by Buff City Soap)

For the ice cream purist it's hard to beat Baskin Robbins!
*Yogurt Mountain- (Jones Valley by Nothing Bundt Cakes)

YOMO as locals call it has a great variety of frozen yogurt and lots of great toppings. All kids seem to love this place!
*Handels- (Jones Valley)
This is one of Huntsville's newest places but it's quickly becoming a fan favorite. They have a great selection of flavors and they even do catering!
*Brusters- (Carl T. Jones- Jones Valley)
Beautiful scenery at the foot of the mountain. Our family has some sweet memories here over the years. Great flavors and they even have a drive-through.
*Cold Stone Creamery- (Jones Valley in Target shopping Center)
Like Marble Slab Creamery- a great place to get ice cream and watch while they make unique flavor and topping combos.
*The Yard- (by Trash Panda Stadium)
This is an experience! Ice cream comes in mason jars and the finished products are insta-worthy!
*Maggie Moo's Huntsville (Bridge Street)
When shopping at Bridge Street- sometimes you need a treat to keep going. This is a cute spot with good flavors and great milkshakes too!
*Rita's Ice Custard- (Hwy. 72)
Worth the drive! A unique texture makes this ice custard fun and tasty!
Let us know what you think. Did we miss any?