Glamping Near Huntsville: Unraveling Nature's Luxurious Retreat
Posted by Rob Abercrombie on Sunday, July 23, 2023 at 3:16:12 PM
By Rob Abercrombie / July 23, 2023
Comment
If you're a nature enthusiast seeking the perfect blend of outdoor adventure and luxurious comfort, look no further than glamping near Huntsville, Alabama. Nestled in the heart of the scenic Tennessee Valley and surrounded by picturesque landscapes, Huntsville offers a unique glamping experience that will leave you with unforgettable memories. Embrace the beauty of nature while indulging in modern amenities and impeccable service. Let's delve into the world of glamping and explore the delightful offerings near Huntsville!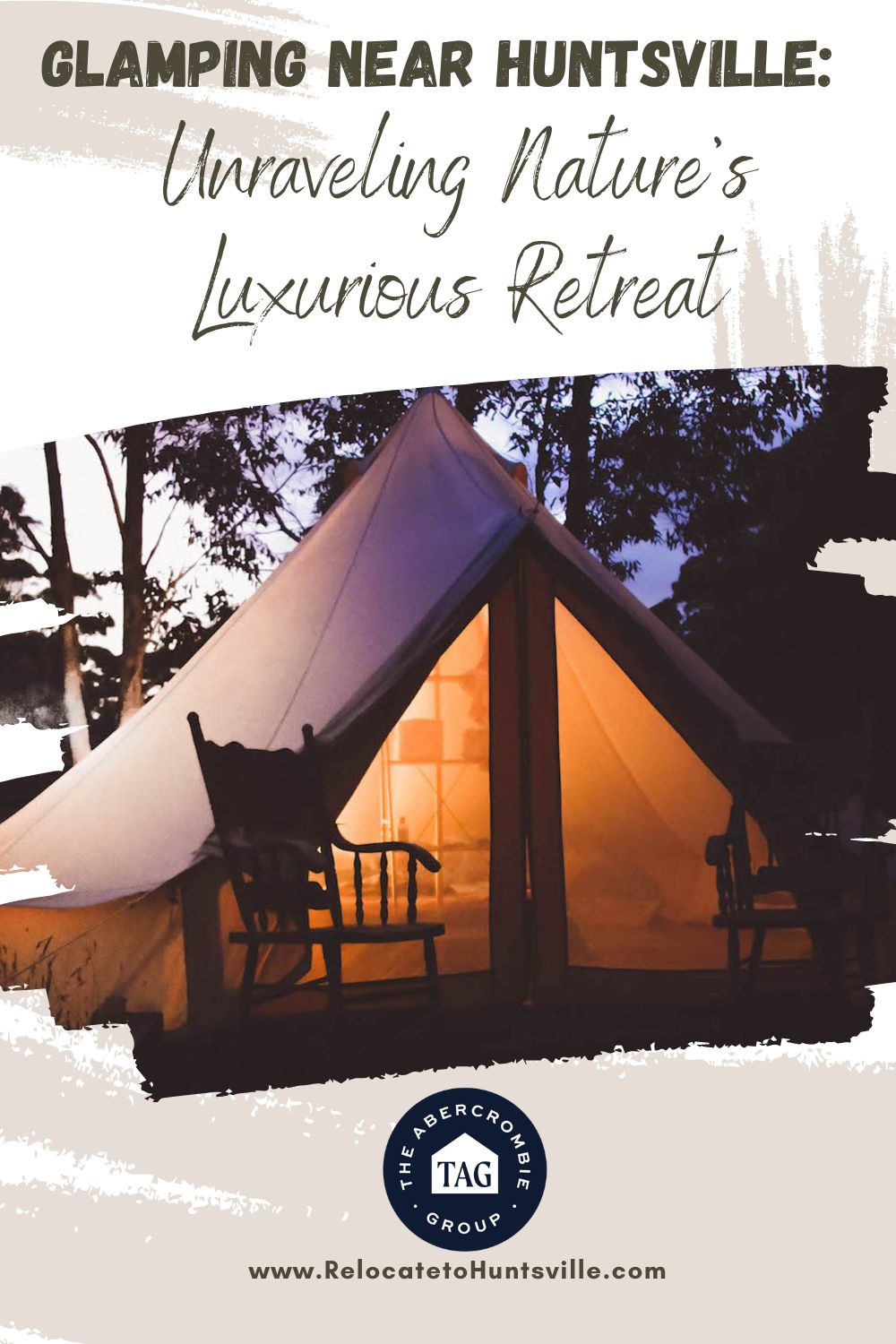 What is Glamping?
Glamping, short for glamorous camping, is a trend that has been gaining popularity in recent years. It takes the traditional camping experience and elevates it to a whole new level of luxury and comfort. Imagine being surrounded by nature's beauty, sleeping under the stars, and waking up to the sounds of birds chirping, all while enjoying the plush comforts of a cozy bed, gourmet meals, and private bathrooms. Glamping allows you to disconnect from the hustle and bustle of city life and reconnect with nature, without compromising on comfort.
The Natural Haven of Huntsville
Huntsville, often referred to as the "Rocket City" due to its history with space exploration, is a nature lover's paradise. Boasting lush forests, serene lakes, and breathtaking mountains, this city has an abundance of natural beauty to offer. While traditional camping is undoubtedly a fantastic way to experience this picturesque landscape, glamping takes it to another level, offering an unparalleled combination of adventure and luxury.
Glamping Sites Near Huntsville
Nestled atop Monte Sano Mountain, this state park offers stunning views of the surrounding valley. Here, you'll find luxurious glamping options ranging from safari tents to rustic cabins, all equipped with modern amenities. Spend your days exploring the hiking trails, and your evenings cozying up by the campfire under a starry sky.
Located just a short drive from Huntsville, Lake Guntersville State Park is a paradise for water lovers. Glamp in style by the lake in charming cabins with all the comforts you could wish for. Enjoy fishing, kayaking, or simply bask in the tranquility of the surroundings.
Immerse yourself in the rugged beauty of DeSoto State Park, where you can choose from treehouses and rustic cabins for your glamping adventure. Surrounded by waterfalls, canyons, and forests, this park offers a wide array of outdoor activities for nature enthusiasts.
Glamping Activities and Experiences
Guided Hiking and Nature Walks:
Explore the wilderness of Huntsville's natural wonders with guided hiking and nature walks. Knowledgeable guides will lead you through the trails, sharing fascinating insights about the local flora, fauna, and geology.
Take a leisurely paddle down the tranquil waters of the Tennessee River or Lake Guntersville. Canoeing and kayaking provide a unique perspective of the surrounding landscape and wildlife.
Huntsville's low light pollution allows for excellent stargazing opportunities. Lay back, gaze at the vast expanse of stars above you, and marvel at the wonders of the universe.
Gather around a crackling bonfire, share stories, roast marshmallows, and enjoy the camaraderie of fellow glampers. Bonfire evenings are a delightful way to end a day filled with adventure.
The Culinary Delights of Glamping
One of the highlights of glamping near Huntsville is the delightful culinary experience. Many glamping sites offer gourmet meals prepared with locally sourced ingredients. Indulge in mouthwatering dishes that blend the flavors of the region with international cuisine. Whether you prefer a hearty barbecue or a five-course meal, glamping takes camping cuisine to a whole new level.
Environmental Stewardship and Sustainability
Glamping, while offering luxurious accommodations, often emphasizes environmental stewardship and sustainability. Many glamping sites are designed to minimize their ecological footprint, using eco-friendly materials, solar power, and responsible waste management practices. This commitment to nature ensures that you can enjoy the beauty of the wilderness responsibly.
In Conclusion
Glamping near Huntsville provides a unique opportunity to escape the monotony of everyday life and immerse yourself in the wonders of nature without sacrificing comfort. Whether you seek relaxation, adventure, or a blend of both, glamping offers an experience that caters to all preferences. So, if you're yearning for an extraordinary getaway filled with breathtaking landscapes and luxury, pack your bags and embark on an unforgettable glamping journey near Huntsville!
To get more details about real estate in the Huntsville area and commence your home search or list your property, reach out to us now!