Exploring the Heart of Huntsville: Stovehouse
Posted by Rob Abercrombie on Thursday, November 16, 2023 at 8:00 AM
By Rob Abercrombie / November 16, 2023
Comment
Nestled in Huntsville, Alabama, Stovehouse is a vibrant and dynamic destination where history and the contemporary world collide. This reimagined complex has transformed the once-industrial landscape into a hub of entertainment, culinary delights, shopping, and leisure. It has quickly become one of Huntsville's premier destinations, offering a diverse range of businesses that provide an array of experiences for both locals and tourists to enjoy. A modern hotspot, Stovehouse has quickly become what many refer to as "the heart of Huntsville" making the shopping center one of the city's highlights.
The History of Stovehouse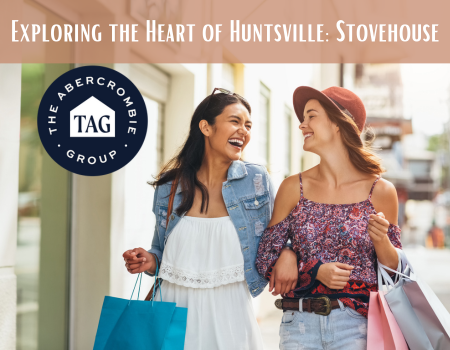 The story of Stovehouse begins with its deep historical roots, tracing back nearly a century to the Martin Stamping and Stove Factory. Built around 1928 on Governors Drive in Huntsville, AL, the original structure initially housed the Electric Belle Stove Company. Soon after its inception, the factory was acquired by Martin Stamping and Stove, a company based in Florence, AL. This transition marked the beginning of a legacy that would endure for many decades.
The factory had a clear purpose – it was a production hub for gas and electric heaters, often referred to as "stoves," along with air circulators and a range of heating appliances. The Martin Stamping and Stove Factory played a vital role in keeping the heart of Huntsville warm, contributing significantly to the city's industrial heritage.
The Transformation
In 2018, the transformation of the Martin Stamping and Stove Factory began, giving birth to the Stovehouse we know today. The mission was clear: breathe new life into this historic site, reinvigorate the surrounding district, and create a space that honors both history and innovation.
What makes Stovehouse truly distinctive is its commitment to preserving architectural relics of the past. As you explore the grounds, you'll discover remnants of history, from old tanks and tumblers discreetly tucked behind the Leisure Lawn stage to the eye-catching yellow and green compressor just outside Parm and Pepper. The campus is adorned with beautiful, historic trusswork that seamlessly weaves the narrative of bygone eras into the present.
Stovehouse District: The Heart of Huntsville
Stovehouse proudly serves as the epicenter of the Stovehouse District, making it the go-to destination for all things local – local events, local music, local businesses, and more. The revitalization of the complex has given Huntsville a place to celebrate its heritage while embracing the modern world with open arms.
Something for Everyone to Enjoy
One of the standout features that distinguishes Stovehouse is the impressive array of businesses that now call it home. Nearly 40 different storefronts have found their residence within this historic factory complex, offering a diverse range of experiences for visitors.
Culinary Delights - Stovehouse offers a remarkable selection of eateries catering to a wide range of tastes. From savory to sweet, you'll find a variety of dining options to satiate your cravings. Kamado Ramen offers a fusion of Asian and Southern flavors. Oh Crêpe! serves delectable crepes, and Oscar Moon's is a haven for those with a sweet tooth.
Fitness Studios - Stovehouse incorporates health and wellness into the experience with fitness studios. Here, you can prioritize your well-being and engage in invigorating workouts to stay in shape. Check out F45 for a fun and intense workout!
Specialty Stores - Gas Light Alley, an eclectic retail venue, houses specialty stores offering unique and one-of-a-kind shopping experiences. Whether you're seeking handcrafted goods, artisanal products, or exclusive finds, Gas Light Alley has something for every shopper.
Entertainment Hub - Stovehouse features multiple stages for live music, making it a prime destination for music enthusiasts. The atmosphere comes alive with local and national acts, providing a delightful backdrop for social gatherings and leisure.
Event Center - For those seeking a space to host events, Stovehouse's event center is a flexible and inviting option. Whether it's a private celebration or a corporate gathering, the event center can accommodate a variety of occasions.
Stovehouse stands as a testament to the power of transformation and innovation. It has breathed new life into a historic factory, creating a thriving hub of culinary delights, entertainment, shopping, and leisure. As nearly 40 businesses call Stovehouse home, the complex has become a vibrant, community-centered destination that seamlessly merges the stories of the past with the promise of a bright future. Are you ready to explore all that Hunstville, AL has to offer? Contact our office today to start your real estate journey and call our beautiful town, home.