Exploring the Craft Beer Paradise: The Best Breweries in Huntsville
Posted by Becc Abercrombie on Tuesday, August 15, 2023 at 2:42:26 PM
By Becc Abercrombie / August 15, 2023
Comment
Nestled in the heart of Alabama, Huntsville is a city that has rapidly emerged as a craft beer enthusiast's paradise. With its thriving craft beer scene, the city boasts an impressive array of breweries, each offering a unique and delightful experience for beer lovers. In this blog, we'll take a journey through some of the best breweries in Huntsville.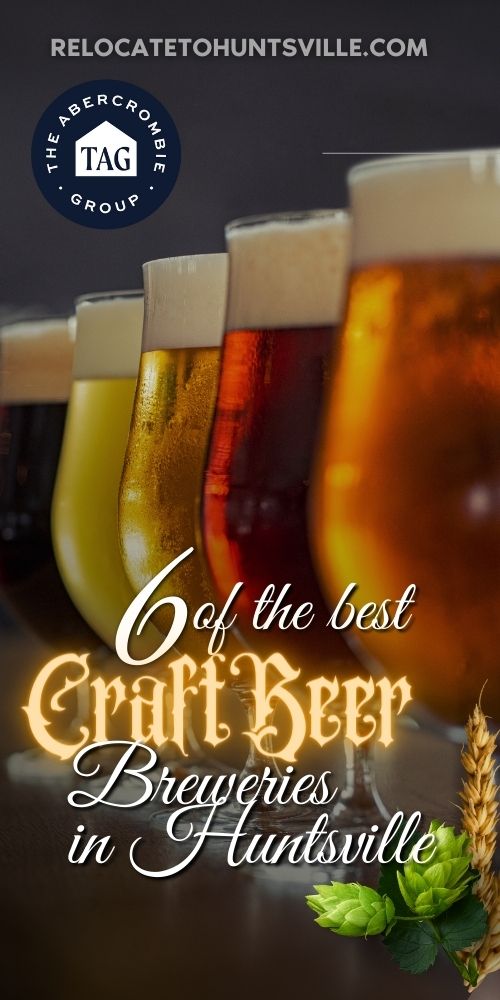 Exploring the Craft Beer Paradise: The Best Breweries in Huntsville
Straight to Ale uses bold flavors and innovative brewing techniques to enrich our community, build long-lasting friendships, and of course, make great beer. Founded by local home brewers in 2009, Straight to Ale has quickly grown to become one of Alabama's largest production breweries.
Straight To Ale has gained regional and national attention within the craft beer community. In the summer of 2016 we opened our new 45,000 square foot facility at Campus 805. At this location, we expanded to include cider and mead production along with Shelta Cavern Spirits, and Ale's Kitchen, a scratch made kitchen.
Located off the beaten path and on the opposite side of downtown, Mad Malts is not a typical tourist spot. It, however, remains a major player in the Huntsville craft beer scene. True to its name, it brews beer incorporating ingredients you would not have dreamt of. The unassuming building and the unconventional location lead to the brewery focusing on experimentation. If you want a little dash of madness in your craft beer experience, Mad Malts will provide you with just that
As we continue our journey, we come across the Green Bus Brewery, a unique and quirky gem in Huntsville's craft beer landscape. The name is inspired by the owners' vision of converting an old school bus into a mobile bar, emphasizing their adventurous spirit and commitment to sustainability.
This brewery is celebrated for its vibrant and diverse range of beers, with an emphasis on locally sourced ingredients whenever possible. The friendly and laid-back atmosphere encourages patrons to sit back, relax, and enjoy the ride through a variety of beer styles and flavors. Green Bus Brewery is a must-visit for those seeking a truly distinct and environmentally conscious brewery experience.
Yellowhammer Brewing is not only a prominent name in the city's craft beer scene but also a symbol of Huntsville's resilience and spirit. Named after Alabama's state bird, the brewery has become a beloved establishment for locals and visitors alike.
Their taproom is warm and inviting, often hosting events and live music that brings the community together. Yellowhammer's commitment to quality and consistency shines through in its classic yet innovative brews. Whether you prefer a refreshing Kölsch or a robust barrel-aged ale, Yellowhammer has something to suit every palate.
Last but not least, no visit to Huntsville's craft beer scene would be complete without exploring the famed Downtown Huntsville Craft Beer Trail. This trail takes beer enthusiasts on an immersive journey through the heart of the city, featuring numerous breweries and craft beer-centric establishments.
The trail allows visitors to sample a diverse selection of locally brewed beers while also savoring delectable food pairings. Each stop on the trail has its distinct personality, contributing to the vibrant tapestry of Huntsville's craft beer culture.
Nestled in Huntsville, Alabama, InnerSpace Brewing invites you to explore a captivating universe of craft beer. As a family-owned and operated independent small-batch brewery, InnerSpace is a haven for beer enthusiasts seeking a diverse range of flavors. From hop-forward IPAs that celebrate the essence of hops to Saisons that pay homage to the changing seasons, each sip is a journey of taste and imagination.
Delve into the Fruity & Fresh collection, where fruits dance harmoniously with brews like Strawberry Milkshake and Black Cherry Sour. Dare to venture to the Dark Side with offerings like Nemesis Stout and TransPorter. Traditional styles find their place with English Pub Ale and Broomstack Helles, while the Wheat lineup, including White Star Wheat, embraces the light. Whether you're a seasoned beer connoisseur or a curious newcomer, InnerSpace Brewing promises an expedition through a realm of flavors that are bound to captivate, inspire, and deligh
In Conclusion
Huntsville has undoubtedly carved its place on the craft beer map with its exceptional breweries and dynamic beer scene. From the innovative offerings at Straight to Ale to the community-centric approach of Salty Nut Brewery, the flavors, and experiences offered by these establishments are nothing short of extraordinary. Add to that the Green Bus Brewery's adventurous spirit, the symbolic Yellowhammer Brewing, and the delightful Downtown Huntsville Craft Beer Trail, and you have a recipe for an unforgettable craft beer journey. So, whether you're a seasoned beer connoisseur or a curious newcomer, Huntsville's craft beer scene is waiting to welcome you with open arms and a perfectly poured pint. Cheers!
For additional information regarding real estate in the Huntsville area and to initiate your home search or list your property, don't hesitate to contact us today!