A Roadmap to Starting Your Business and Moving All at Once
Posted by Rob Abercrombie on Wednesday, March 1, 2023 at 1:40:52 PM
By Rob Abercrombie / March 1, 2023
Comment
The chance to start a business is very exciting, and it is even better if you get to do it while you are working from home. However, if you get started and discover that your house is not large enough for both you and your business, then it may be time to move. It may seem super complicated to relocate while starting a company, but with organization and helpful tools, you can make it happen. The Rob Abercrombie Group shares some insights on how to do everything and make it easy.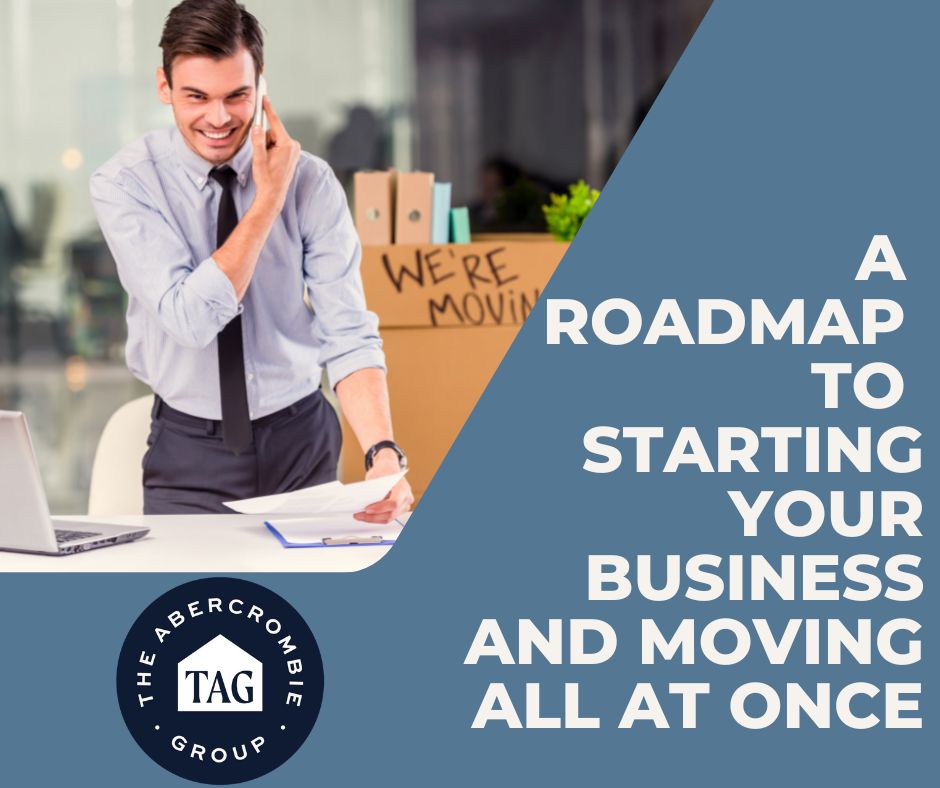 Making Smart Business Decisions
Starting a business is a major decision and can be intimidating for many entrepreneurs. To make smart decisions when starting a business, it's important to do your research and have an in-depth understanding of the industry you plan on operating in. Take the time to understand the risks associated with the venture and develop an actionable strategy to minimize those risks.
Talk to other business owners and experts in the field and get their insights on how they succeed. Be sure to assess yourself and review your strengths and weaknesses; this assessment will help you determine what sort of business is right for you. Finally, create realistic goals that are measurable, achievable, relevant, timely, and specific. These will provide focus to your venture and enough motivation to stay the course should difficulties arise.
For many entrepreneurs, selecting the right business structure is an important decision that can have a big impact on their venture. An LLC (Limited Liability Company) is often a popular choice, as it offers limited liability protection for the owners and provides flexibility in managing the business without all of the formalities of other business structures. It's important to understand all of the regulations and guidelines when you start an LLC, so using a formation service can be helpful in making sure everything is done correctly and efficiently.
Considerations When Buying a House
When you are looking for a new home, you will need to consider how much space is necessary for your family and your business. A main consideration should be the square footage of the place and ensuring that you will have enough room for your office and all of your equipment. Take your time and make sure that the house will work because you will not want to move all of that stuff again if you can help it. This involves first checking out how the housing market is faring, and what properties are going for. When you're ready to start seriously looking for a home, get in touch with a professional like
Use the Cloud to Make Things Easier
Since you will be constantly moving during your relocation, it is a smart idea to organize your files in such a way that you have access to them at all times. One way to do that is by digitizing your records on your computer so you can take them anywhere.
Salesforce notes that you can have access to all of your files by using a cloud computing service. Once you upload the files, you can see and edit them from anywhere. Plus, cloud computing programs often have their own cybersecurity team, so you can ensure that your work is safe.
Another online solution is scheduling, which you can use to keep up with your move and business responsibilities. When you use your own free schedule maker, it makes it simple to create a schedule to keep you organized. After choosing a predesigned template, you can customize it by adding your own colors, fonts, backgrounds, and text.
Making Moving Easier
Once you have found the perfect house and you are ready to go, Best of the West Movers says to consider looking into professional movers who can help you to pack and drive your belongings to the new property. Make sure to do your research ahead of time and read customer reviews, so you know you are hiring a good company. Take the time to call and tell them about how much you have to move, so they can give you an accurate estimate, and you can be sure that it will fit in your budget. By hiring a professional, you can also focus more on your work and not get overly stressed while worrying about too much.
As you can see, it is possible to be successful with moving and starting a business all at once. Make smart business decisions, digitize your files, creating a schedule to keep things on track, check out the housing market, and hire professional movers. All this will make the process much easier.